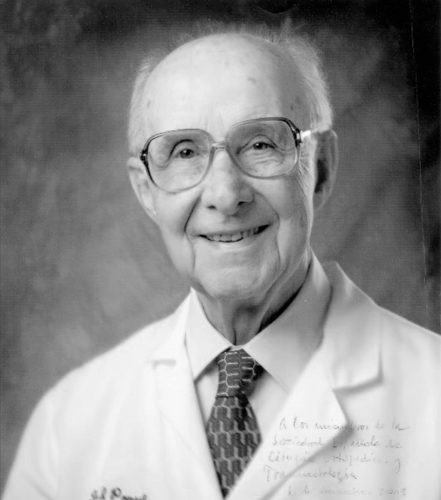 DR. IGNACIO VIVES PONSETI
He was a Spanish orthopedist and traumatologist, a professor of the Orthopedic Surgery Department at The University of Iowa, the creator of a non-invasive method of congenital clubfoot treatment in children and adolescents, further known as the PONSETI METHOD.
He was born on  3 June 1914 r. in the city of  Ciutadella de Menorca on the Spanish island of Menorca (part of the Balearic Islands off the east coast of Spain). He had a younger brother – Miguel Vives Ponseti, who became an architect. His family moved to Barcelona when he was 8 years old.
He died on 18 October 2009 r. at the age of 95. The cause of death was a stroke he had suffered 4 days earlier while working in his office at a hospital in Iowa, United States. To celebrate his birth Ponseti International Association has designated June 3 as WORLD CLUBFOOT DAY, which is a celebration of all children with this condition treated with the Ponseti method.
Ponseti was the son of a watchmaker. His father had a small watchmaker's shop, in which, during his studies, young Ignacio helped his father repair watches: he learned how to replace tiny, broken pieces of glass, masterfully fitting in new ones. Undoubtedly, the skills he acquired: precision, diligence and patience ultimately contributed to his skills as an orthopedist and surgeon.
BARCELONA, CIVIL WAR IN SPAIN
At the age of 17 (in 1931), he entered the Medical University of Barcelona. Since he had very good grades in the final exams in his previous school, he was able to enter college without paying any tuition fees. At the end of his freshman year, he received a scholarship from the city that came in handy to fix the family's precarious finances. He also gave private lessons. He was also lucky to study biology in a small group of brilliant students under the tutelage of an outstanding professor who instructed the class to cut animal and plant tissues, make histological cuts of frog brains, stain them, and analyze them under a microscope. This research became the basis of his biological interest in medicine and his numerous contributions to the pathology of skeletal growth disorders, which included the key to uncovering the biomechanics of clubfoot deformity.
In the same year (1931) the monarchy collapsed and Spain became a republic (1931-1936), and Catalonia gained some autonomy. This freedom, in turn, was the basis for the University to become one of the best in Europe, and for the Medical School to reach its apogee during the Joaquín Trías deanery. In 1933, the faculty was joined by highly trained students who were sent abroad for postgraduate internships in the best European and American medical centers.
On July 17, 1936, Ignacy passed the final exams at the University of Barcelona, ​​and a day later fights broke out between Francisco Franco's forces and the Republicans. The Nationalist uprising against the Spanish government turned into a three-year civil war (1936-1939). Just a few days after the outbreak of the war, Ignacy was a military doctor on the Aragon front – in the ranks of the Loyalist – first as a lieutenant, and then as a captain in the orthopedics and fractures section. He worked at the Pedro Mata Hospital in Reus. Here Ignacy was assigned to work in the team of Dr. Jimeno Vidal – It was a very fortunate move because Dr. Jimeno Vidal was studying with Dr. Lorenzo Böhler in Vienna, from where he gained experience in applying plaster very precisely and differently than it was done then. Hence, fractures were treated according to Böhler's teaching. The fractures of the femur and tibia were subjected to skeletal traction (traction) several weeks before the application of well-shaped casts to better immobilize the fracture and facilitate walking with full weight on the limbs for faster recovery after recovery. Moreover, after such treatment, the patient did not require any rehabilitation to return to normal and full functioning. Open fractures have never been treated with internal stiffening: wires, screws, etc. Ponseti's team treated about 4,000 war wounds and fractures. The speed with which wounds and war cracks healed was impressive. The dressing of war wounds by Ignacy was based on the technique of Winett Orr and Josep Truet – the wounds were never sutured. Antibiotics had yet to be discovered during the Spanish Civil War, but according to Trueta's protocol, most wounds healed quickly without gangrene or osteomyelitis. In fact, there have been no deaths due to infection.
After the Battle of Ebro in 1938, Ignacy (as captain) returned to Barcelona to work with the wounded in the local hospital. The precision taught by his father in a watchmaking workshop was extremely useful during various neurosurgical operations (including the brain). A few days after Francisco Franco's troops entered Barcelona, ​​Ignacy (along with other surgeons) transported the wounded by train, who had to be evacuated from military hospitals in the city. At midnight they reached Girona, about 30 kilometers south of the border with France, and from there by a specially designed ambulance to Olot (Spain), where they then had to be transported on to a designated hospital in France. Unfortunately, after reaching Olot, the ambulance driver fled – as it turned out later, he turned to Franco's side and was shot for treason. Left without transport, Ponseti and his companions had to transport patients in several cars, driving on a secondary, unattended road some ten miles north to the smugglers' cabin. There, mules were delivered to them to transport the more severely injured for the next four miles to Prats de Molló in France, while Ponseti plastered patients with tibia fractures so that they could cross the Pyrenees mountains on their own. The operation of plastering and evacuating the wounded lasted 3 days and nights.
When the fascist troops Francisco Franco took control on January 26, 1939, he found himself on the side of the losers.
This is how Ponseti's career in medicine began, as he recalls: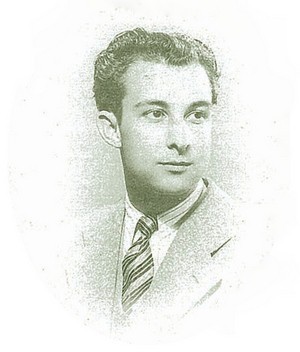 I got a lot of experience in treating war wounds and extremity wounds, treating fractures, and doing extremity surgery. That's how I got into orthopaedics.
FRANCE
In Prats de Molló, all patients were accommodated in a large area in the town hall. A young doctor from Montpellier (shortly after school) took over the treatment of the wounded with outdated techniques from World War I. One of the injured had a high fever because of an abscess in his thigh that required drainage. A French doctor injected some ineffective disinfectant. That night, with the help of religious nurses from the monastery, Ignacy emptied the abscess, and in the morning the fever subsided. When a French doctor found out about Ponseti's intervention, he sent him to a concentration camp where armed Senegalese people guarded thousands of refugees. Two days later, a French lieutenant from the Military Health Service arrived, fired the French doctor, and called Ponseti back to look after the wounded. After a few weeks, he was transferred to a new "hospital" in Arles sur Tec, built by Spanish refugees on the orders of the mayor of the city with money from SERE (Sociedad Española de Refugiados en el Extranjero – Spanish Society of Refugees Abroad]). It was supposed to be a hospital, but the mayor assigned it to store apples. A month later, the Spanish refugees were transferred again, this time to Caserne de Maraussant, built near Bezier at the end of the First World War. There were about three hundred beds in this building, mostly for the wounded, but in other rooms for those suffering from pneumonia and gastrointestinal complaints acquired in concentration camps. Ignacy picked them up in an ambulance. There were several Spanish surgeons and internists in the hospital. One of them – Dari Huguet – had extensive experience in private practice. At night, he conducted lessons for Ignacy and another doctor about what exactly drugs are indicated for the treatment of which diseases and infections. So Ignacy operated on appendicitis, suppuration, etc.
Anticipating the impending war with Germany, the French suggested Spanish refugees enlist in the French army. Ponseti did not take advantage. Mexican President Cárdenas opened the possibility to come to Mexico without citizenship in French refugee camps and granted them Mexican citizenship. With SERE's help, thousands of Spaniards were shipped to Mexico.
MEXICO
Far from home, without citizenship or language skills, after spending six months in various refugee camps, in July 1939 he traveled by boat from Bordeaux to Veracruz (Mexico), where the Mexican government agreed to accept some qualified refugees.
He lived in Mexico City for less than six months. There he met Dr. Juan Faril – professor of pediatric orthopedics at the University of Mexico, an extremely educated man. Faril himself had clubfoot on both sides, operated many times. It was about a cane. He strove to improve orthopedics in the Mexican capital. Due to the lack of a job, Ponseti moved to Juchitepec where he spent two years practicing family medicine and learning English in his spare time. During one of his trips to the capital, he met Dr. Faril, who told him about school in Iowa because he was training there himself with Dr. Arthur Steindler – a world-famous and excellent-class orthopedist, surgeon and traumatologist. Faril personally wrote to Steindler recommending Ponseti. During his two-year work in Mexico, Ponseti saved around $ 1,000. It was the required amount-guarantee to go to the USA. His goal was to be a postgraduate student for one year.
I thought it would be a temporary stay in the United States, that I would go back to Spain and teach there. But I remained here. Spain was dominated by a Fascist regime for 40 years, and I didn't want to be in a place where a dictatorship dominated.
BEGINNINGS IN IOWA
In late May 1941, he left Juchitepec, traveling from Iowa, arriving on June 1, 1941 – just before his 27th birthday.
Steindler requested a one-year postgraduate internship before applying for a three-year residency with the Department of Orthopedics. When Ignatius arrived, the course was to begin a month later. A very big problem for the young doctor was that the only document confirming his profession was the Study Certificate on the day he passed his final exams. Unfortunately, diplomas confirming graduation and obtaining the title were not distributed, because the day after the exams, civil war broke out.
Steindler introduced Ponseti to the professor of anatomy – Ewen M. MacEwen, who was the dean in his spare time. Dean MacEwen had no idea what to do with Ponseti's credentials and sent him to Dean Carl Seashore of graduate school. For about 15 or 20 minutes, they talked about Ignacy's medical interventions during the three years of the Spanish Civil War, as Seashore knew about Ponseti's various actions during this time. This decided to accept him for an internship. Thanks to Steindler, an exception was made for Ponseti and his graduation diploma was accepted in place of his diploma. In 1944 he became a temporary member of the department. In 1946, thanks to the Spanish Consulate in Chicago, he finally received his diploma and his position was legalized. Two years later, in 1948, he was granted American citizenship.
A month after arriving in Iowa City, before class began, Ignacy's job was to translate into Spanish the twenty lectures that Steindler would give in Mexico City in the fall and teach him how to pronounce them correctly. Young Ignacy was also Steindler's chauffeur and constant companion from 6 a.m., when he arrived at the doctor's house, had breakfast with him and worked all day on his lectures. Meanwhile, Ponseti was learning English.
Ponseti's interest in congenital malformations, scoliosis, osteoarthritis, and the many injuries caused by accidents has led to a radical shift in the direction of his activities.
A BREAKTHROUGH METHOD
Early in his career in Iowa (mid-1940s), Ponseti quickly realized that the results of clubfoot surgery – cutting ligaments and tendons that could force a more normal position – that Dr. Steindler was doing were not good. and caused further problems in patients' lives: limitations of movement in the ankle joint, pain, severe arthritis, numerous additional deformities. As a consequence, the rate was weak and inelastic, and more than once it required further operations.
Ponseti began looking for a different treatment for clubfoot because he knew for sure that surgery was not the best treatment.
In the 1940s, we were doing many posteromedial releases and I saw that most of the important ligaments of the tarsus had to be severed to loosen the subtalar and midtalar joints so that the foot could be abducted under the talus. When operating on relapses, I noticed severe scarring in the foot and stiffness in the misshapen joints. The posterior tibial and toe flexor tendons that had been lengthened in the first operation, were matted and immobilized in a mass of scar tissue. After a few years of this experience, I was convinced that surgery was the wrong approach for treatment of clubfoot.
Ponseti's work on the new method included studies of patients previously treated surgically by Dr. Arthur Steindler (evaluation of 22 patients with congenital clubfoot treated surgically in 1920)
The young doctor diligently studied the results of X-ray examinations, laboratory tests, medical interviews. Because the Iowa population was relatively stable over time, Ponseti was able to easily locate patients long after they were treated and analyze the effects of treatment years later.
For 18 months, Ponseti studied the anatomy of the foot: its anatomy, functionality, biomechanics and pathology. Spending hours in the dissecting room, he analyzed the foot structure of stillborn babies (as well as adults) with clubfoot deformity to learn more about this abnormality. He thoroughly investigated the bone structure, the structure of joints and connections between the tarsal bones, the structure of muscles, ligaments and tendons.
He then discovered, by examining the material under a microscope, that the fibers in a deformed infant foot contain numerous cells of collagen, which is strongly wavy and very dense, but which at the same time responds very well to stretching and does not form damage in it. Since tendons and ligaments and muscles can be stretched quite easily, other components – cartilaginous bones – will also follow. Gentle manipulations that stretch the tight medial ligaments should allow some correction of bone deformities. The joints will be rebuilt if the stretching is kept in a plaster cast for 5 to 7 days.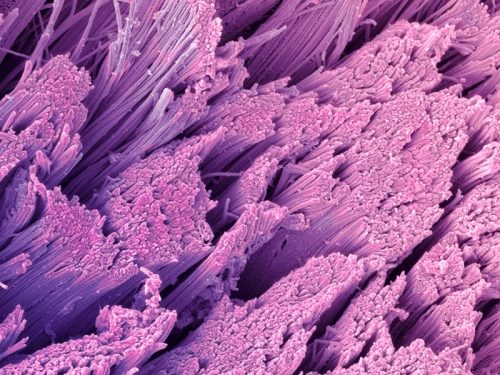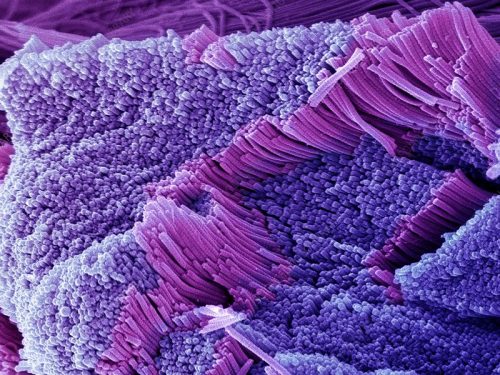 I conceived, therefore, that the displaced navicular, cuboid, and calcaneus could be gradually abducted under the talus without cutting any of the tarsal ligaments. From dissections of normal feet of children and adults in the anatomy department and of clubfeet of stillborns, I fully under-stood the mechanism of the interdependent movements of the tarsal bones and realized that clubfoot deformity was simple to correct.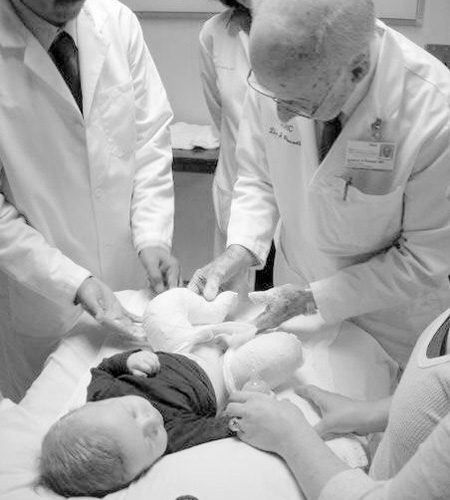 HEALING TOUCH
Ponseti implemented his method among patients in 1948-1956, and his first patient was ROSS SNYDER (1956).
The innovativeness of the treatment was based on a gentle stretching of the medial ligaments and muscles of the foot.
Ponseti only used his hands: he set the foot in the right position and maintained the correction with a plaster cast: from the toes to the groin, flexing the leg at the knee at an angle of 90°. He knew perfectly well that accurate and gentle modeling of the plaster cast over the reponed tarsal subluxation in the clubfoot is essential, as was the modeling of plaster cast over a well-positioned fracture – he practiced modeling plaster casts (which he learned during the Spanish Civil War). A week later, the cast was removed and the procedure was repeated until the foot was corrected. The joints reacted slowly, but just as he had anticipated. After applying five casts, most of the feet became even and their positioning was correct.
After the publication of an article on a new treatment for clubfoot in "The Bone & Joint Journal"  in March 1963, Ponseti received a wave of criticism and a series of allegations among fellow orthopedic surgeons. His article was misunderstood and poorly studied by his colleagues, leaving few orthopedic surgeons acquainted with and using the technique.
The first center to successfully use this method on a massive scale was the home clinic in Iowa, where the Ponseti method was officially used since 1952.
Over the next 50 years, the method was adopted by many medical teams around the world because it actually gives much better results than the surgical treatment of the defect, and has the advantage of being much cheaper.
TO END
Until the last days of his life, Dr. Ponseti treated little patients at a clinic in Iowa founded long time ago that bears his name – PONSETI CLUBFOOT CLINIC.
He was extremely involved in treating children, constantly looking for treatment solutions that would improve the quality of life of his little patients.
Together with an orthotic – John Mitchell – they developed a new foot abduction brace, known as the Mitchell brace, but the name of Ponseti appears on the black connector connecting the two ends of the bar. The doctor also commissioned Mr. Mitchell to develop a new type of boot that would be more comfortable and, above all, improve the quality of treatment for children with atypical and complex clubfoot.
Dr. Ignacy Ponseti enthusiastically trained doctors, physiotherapists and other healthcare professionals. His method, thanks to his parents, spread quickly to many countries.
In 2007, the International Clubfoot Symposium gathered over 200 doctors from 44 countries around the world.
NOT ONLY A FOOT…
During his 65-year career, Dr. Ponseti has contributed not only to the invention of the non-surgical treatment of congenital clubfoot, but also has published over 140 articles on various topics related to orthopedic surgery and orthopedics.
He was mainly involved in research on the development of inherited skeletal disorders, skeletal growth disorders in children and the biochemistry of cartilage. He determined the curvature patterns of idiopathic scoliosis and conducted many studies to evaluate the results of long-term treatments for congenital hip dislocation.