In the developed countries children with clubfoot undergo treatment relatively soon. That is why most of them finish full treatment by the time they go to school. This is important, as children grow and develop with normal, functional  and flexible feet: without pain or feeling worse or different than their peers. They do not stand apart from others either with appearance or with capabilities. They are accepted and have equal opportunities. The defect itself doesn't affect their operations, making them disabled or rejected due to their disfunction. Unfortunately, it is not everywhere… Neglected clubfoot is considered to be the most severe locomotor disability in the world. Neglected clubfoot is a major problem in many developing countries and approx. 80% of cases take place in those regions.
What is the reason for neglected clubfoot?
The answer to this question is both simple and hard. The reasons for this are multi-fold and may be hard do imagine in a well-developed and relatively well-functioning country. They can be trivial or simply absurd.
LACK OF KNOWLEDGE
lack of access to knowledge about the deformity, the possibilities of treatment – that is in fact relatively simple and budget-friendly – causes situation in which children are not treated at all and their feet remain deformed for the rest of their lives.
MEDICAL CARE
access to public health care is either impossible or highly limited. Hospitals are remote, treatment can be expensive, so women decide to give birth in their homes or in the nearby health centres.
BELIEVES
in some counties religions and value systems are so strong, that people can believe that child born with clubfoot could be a curse or a punishment for their parents' deeds. Or is a reason source for bad luck and doesn't deserve care or treatment. Providing children with medical care can be treated as a betrayal of the principles and could cause condemnation and exclusion from society.
COSTS
in poorer counties that do not provide parents with financial support (either governmental or non-governmental) the treatment is not initiated.
A HELPING HAND
Fortunately, there are many non-profit organisations and NGOs that support clubfoot treatment in the developing countries. Some of them come from abroad – a developed country, some are local initiatives, and some are national treatment programs imposed by Ministry of Health or a substitute of thereof. The main job of those organizations is spreading knowledge across parents and medical personnel, coordinating trainings for doctors, nurses, physical therapists, creating places in which treatment could be conducted, providing resources and equipment, issuing brochures and any other support in general.
SPECIFIC DIFFICULTIES
On many levels neglected clubfoot generates multiple complications. Medical issues are the most significant and have large impact on other areas of live. However, untreated defect creates social, economic and mental dysfunctions.
FROM MEDICAL SIDE
Deformed foot has inappropriate structure. This results in pain, stiffness, limitation of mobility. Makes everyday life impossible. Walking, jumping, running become insurmountable. Sport is not even an option. Inappropriate structure, thus inappropriate gait forces rest of the body to work unnaturally. Anatomically, we are as combined vessels: knees, hips, spine that are overloaded and in forced positions hurt and stiffen. Pain shoots through not only foot, but also  through the rest of the body.
FROM SOCIOLOGICAL SIDE
Children with idiopathic clubfoot are often abandoned and condemned to live in poverty. However, if a family decides to undertake the treatment, most of the responsibilities are taken on by mother, who has less time for other children, housework, economic or agricultural activity. Living standard declines burdening whole society. Both children and adults are treated as worse. Their disability is a reason for rejection. Women with clubfoot marry rarely and are more often victims of physical, mental and economic violence. Event though clubfoot children are capable of operating in normal educational system, they do not stand a chance as their needs are not treated with precedence. They cannot take part in everyday life activities, such as sport.
FROM THE ECONOMICAL SIDE
The condition of foot and health in general are the most common reasons for poverty. The disabled and their family have low living standard, which inflicts loss. Unfortunately people who suffer from neglected clubfoot do not have many options when it comes to employment or even everyday activityes: digging, tillage, harvesting crops, collecting firewood or water becomes impossible for children, youth and adults whose feet are not operative. Undergoing treatment at a later time or relapse treatment imply financial and time costs that may exceed family's possibilities. This means expenses for travel, consultations, equipment. Initiating treatment within the first 8 weeks after birth can significantly limit those expenditures. This is particularly important in the developing countries, where ex. traveling or appointment costs can be partially omitted. The whole another aspect is the necessity of governmental support, where the cost of help exceeds potential profits, making the whole precedent unprofitable for the country.
FROM THE PSYCHOLOGICAL SIDE
Psychological background of people suffering from neglected clubfoot is significant. Usually they feel excluded, forgotten, rejected because of their physical challenges. Often they have low self-esteem and self-acceptance, avoiding or having hard time establishing relations. They step back and withdraw, making the vicious circle of depression impossible to overcome. Helplessness, the sense of injustice, rejection can be expressed by self-mutilation.
UNBELIVABLE?
As you can see, it is unbelievable that somewhere in the world, this relatively simple defect could not be treated at all. And yet it is! What is more, problems associated with neglected clubfoot are multifold and affect the disabled even more, excluding them from everyday life and taking away desire to live.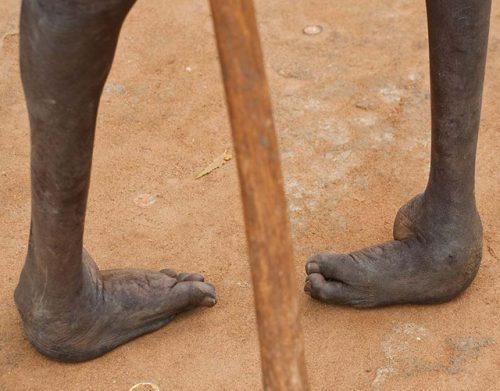 THE PONSETI METHOD IS NOT KNOWN ALL AROUND THE WORLD. THERE ARE PLACES, WHERE PEOPLE DO NOT KNOW THAT CLUBFOOT CAN BE TREATED DIFFERENTLY.
YOU CAN CHANGE THIS!
HOW FAR THIS KNOWLEDGE GETS DEPENDS ON YOU. EVEN IF THIS IS ONLY THE CLOSEST NEIGHBOURHOOD: A HOSPITAL, A DISPENSARY, A CLINIC, A FAMILY!